Lifestyle Hack: No Hangover Wine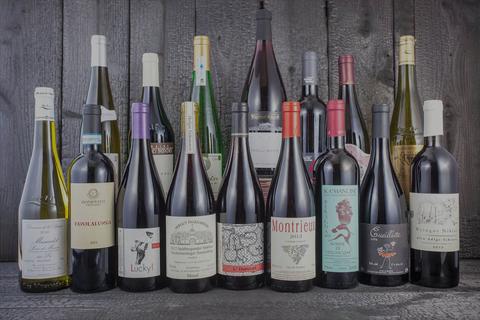 Dry Farm Wines is the only all natural, lab tested, health quantified wine club in the world.  Since making the important lifestyle choice to stop drinking domestic wine that is loaded with over 70 different additives & chemicals, I have been able to truly enjoy drinking a glass of wine, as often as I choose.  Following are the benefits that I have noticed since drinking wine from Dry Farm Wines:  I no longer wake up in the middle of the night, I don't get hangovers, I don't get headaches, I don't break out in hives on my face, and I don't get incredibly tired after 1 – 2 glasses of wine.
Dry Farm Wines is more than a wine club. It's a movement for the return of natural, sugar-free, additive-free, and unprocessed wine. These wines not only speak with soul and passion, but they are also better for the planet and a smart choice for your health.
What to Expect From Drinking Sugar-Free, Low-Alcohol, and Natural Wines:
Lower Dosage Higher Health – Though alcohol is toxic, it has benefits in the right dose. Lower alcohol wines allow you to experience a pleasure and euphoria without the negative remnants.
Enhanced Culinary Experience – Without the heavy additives or heavy alcohol, the natural texture and personality of this wine is simply more food friendly.
Clean, Joyful Buzz – Lower alcohol produces a more vibrant buzz, enhancing how you feel and keeping you energetic!
Expanded Creative Expression – By micro-dosing alcohol with our wines, you'll feel a flow of creative expression and cognitive connection.
Elegant, Soulful Taste –You'll immediately notice how unique these wines taste. They're more soulful, lively, true to their terroir and they follow nature's logic.
No Negative Reactions – Enjoy these wines without brain fog, red wine reaction, dehydration, or hangovers. Just better sleep and more smiles.
Wine Facts You Should Know:
Over half of all wine sold in the US is manufactured by three giant wine conglomerates.
There are over 76 additives approved by the FDA for US winemaking including ammonium salt and copper sulfate.
Mega Purple, a coloring agent invented to change a wine's color and increase bottle price, is used in industrial winemaking and causes purple teeth.
Instead of native yeasts found on vines, US wine companies use genetically modified (GMO) yeasts.
Over 20 million pounds of pesticides are used on commercial vineyards in California every year.
Monsanto's synthetic herbicide RoundUp ("glyphosate") is so commonly used in the US that organic wines frequently test positive.
Bio Certifications:
Sugar Free (<1g/L)
Carb Free (<1g/L)
Low Sulfites (<75ppm)
Low Alcohol (<12.5%)
Organic/Biodynamic
Hand Harvested & Crafted
European Imported
Artisanal, Family Owned
Paleo & Keto Approved
No Commercial Additives
No Hangovers
Dry Farm  Wines all share natural farming and traditional winemaking practices, including:
Natural, organic or bio-dynamic viticulture/farming
Dry farming, no use of irrigation
Old growth vines, generally 35-100 years
Hand harvested fruit from low yields
Minimal intervention in the vinification and aging
Wild native yeast in fermentation
No commercial yeast for flavor alteration
No or minimal filtering/fining
No or minimal use of new oak
No or minimal addition of SO2 (sulfites)
No chaptalization (adding sugar to the grape must in fermentation)
No chemical additives for aroma, color, flavor or texture enhancement
Set Up A Subscription That Works For You:
Order every month or every other month
Order 6 bottles (half case) or 12 bottles (full case)
Order red, white, or a mixed combination
Set up your first order and receive one bottle for just one penny.
Visit Dry Farm Wines and explore.
Enjoy the finest organic & natural wines delivered to your door.
No Hangover
No Headaches
Uninterrupted Sleep
Essential Activity:
Claim your penny bottle & start the journey of high health.  Be the health revolution.