What The Heck Is Propylene Glycol?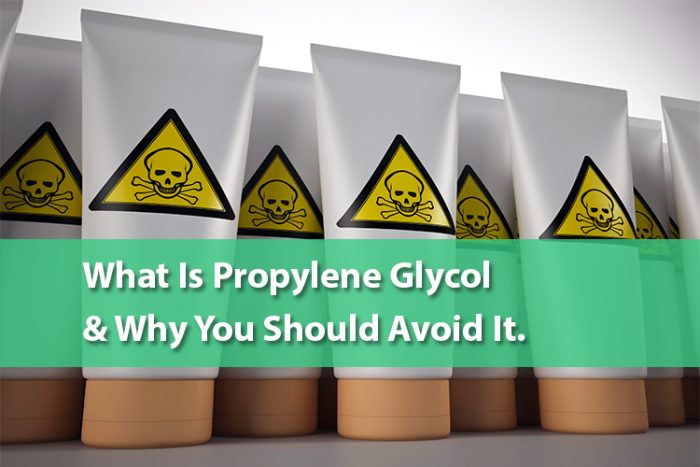 We are the first generation to be exposed to petrochemicals everywhere. Some we can do nothing about, they are present in the air, water, and earth. Others we voluntarily put on our skin in the form of shampoo, cleaners, toothpaste, and lotions, and some we put in our mouth in the form of "food".
Did you know?
Everything that comes in contact with the skin is absorbed and enters the bloodstream quickly.
Have you ever taken the time to read the ingredients listed on the food, nutrition, and personal care products that you purchase and use? If not, it's ok, there is no judgment from me – but it's time to make an important change in your lifestyle, and it requires quickie investigations into the very products that you spend your hard earned money on from day to day. So what the heck is propylene glycol anyway? And why is it in our food supply, medicines, and personal care products?
What is Propylene Glycol?
Propylene Glycol is a colorless, odorless and creamy substance with a sweet flavor. On the mainstream market, it is known as the main ingredient in antifreeze. The chemical formula is C3H802 and it is also known as "propane-1,2-diol". Does this make you think propane gas? Well it should, because propylene glycol is the third "product" in a chemical process that begins with propene – a byproduct of fossil fuel or shall I say, oil refining and natural gas processing.
Propylene glycol is found in thousands of mainstream personal care and cosmetic products. Even more frightening, it is found in many medications as well as in foods that require thickening, emulsifying, or stabilizing.
Processed foods that may contain propylene glycol include:
Ice Cream
Icing
Puddings & Desserts
Cake Mix
Liquid Artificial Flavorings
Artificial Sweeteners
Flavored Coffee
Soft Drinks
Soups
Salad Dressing
Cornstarch
Sauces & Dips
Dog & Cat Food
Personal care items that may contain propylene glycol include:
Ointments
Lotions & Creams
Body Wash
Shampoo & Conditioners
Mouthwash
Deodorants
Baby Wipes
Foundation
My Personal Experience with Propylene Glycol
Below is an email that I sent to some friends several years ago.  I have removed the popular ice cream brand name of the product from the original letter.
"Hello Everyone,

I just wanted to share this information that I researched and found last night.  You all know that I am a "clean" eater for the most part.  Recently, I had a terrible stomachache after eating a fairly small portion of caramel ribbon ice cream 2 weeks ago.  With the stomachache, I also got an immediate earache – two things that I typically do not experience.  Knowing that this was directly connected to ingesting the ice cream due to having an immediate reaction, I decided to read the ingredients.  I noticed that propylene glycol was near the top of the ingredient list.

Since I have not reacted to other flavors of this particular brand, I am 100% positive that it was the propylene glycol that I reacted to.  I have looked at other flavors within this brand name and discovered that only some of the flavors contain propylene glycol.  Needless to say, I will be returning the expensive  "poison" and getting my money back.

Thankfully I had my essential oils on hand and was able to treat myself with peppermint oil.  I drank a couple of drops down in a small glass of water, and I rubbed some peppermint on my stomach mixed with a carrier oil.  Within 15 minutes the pain subsided.  I continued to have ear pain in my right ear, but treated the ear with some essential oils over the course of a few days and the pain seems to be gone.

Please take a look at the links below.  For those of us who are on a quest to alkalize our bodies, ingesting propylene glycol via our food and personal care products is not going to support that goal.  By the way, propylene glycol is one of the top ingredients in deodorant sticks.  Advice:  instead of using propylene glycol & aluminum filled deodorant, rub a carrier oil under your arms and top it off with anti-bacterial essential oils. Better yet, mix them all together in a glass roll-on bottle. You will smell delicious all day long – and it really works!

Moral of the story:  Start reading ingredients more closely and replace ALL chemical products with trustworthy, chemical free personal care products, cleaning products, and nutritional supplements.  doTERRA is the ONLY company that I know of who offers products that are unadulterated, therapeutic grade and 100% in line with nature.

Be well, Margarete"
Harmful Effects of Propylene Glycol
Gut Permeability: can be bioaccumulative, creates damage to gut lining, gut inflammation is linked to a long list of dis-eases
Skin Irritation: dermatitis, aggravated skin
Blood Acidity: causes toxicity, acidosis that can cause kidney failure and coma
Respiratory Issues: immune system damage from building materials such as paint & carpet leading to allergies & asthma
Cardiovascular Problems: heart disease and symptoms thereof
Neurological Symptoms: convulsions, decreased activity, depression, severe mental symptoms
Not Safe for Infants or Pregnant Women – infants cannot break the compound down quickly as adults
May open cell membranes for more harmful chemical exposure and absorption.
My Personal & Home Care Solutions:
I am an avid user of doTERRA Essential Oils.  I have remedied all of my environments, including home, workplace, and internal / physical body, mostly by way of the products offered by doTERRA Essential Oils.  I rarely have a need to enter into a mainstream pharmacy or grocery store.  I can show you how to get these products in the cheapest most cost effective way AND I will teach you how to use essential oils.  Contact me or visit this link to purchase quality non-toxic personal care, nutrition support, and home care solutions.
Do research all of these ingredients, but do not be fooled by websites that claim the above ingredients are safe.  You will always find written support for the running list of ingredients that are making people wealthy as they make many people sick.
Mindful Choices:
You are what you eat, and you are everything that you put onto and into your body, including the toxins you breathe in from the air and the toxins you drink from un-filtered water.  You ultimately choose how you care for your body and those of your young family members.
Essential Activity:
Read the food, personal care products, & cleaning labels of everything in your home & workplace.  Avoid processed foods and buy trustworthy brands that you have researched. Use quality air purifiers in your home, especially the bedrooms, and open windows to air out your house or apartment. Purchase a high quality water filtration system that mounts under the sink, is tied into your humidification system, or is designed to fit on a countertop surface.
Look for the following harmful chemical ingredients before purchasing any conventional/mainstream products:
Propylene Glycol
Sodium Laurel Sulfate (SLS)
Mineral Oil
Fragrance
Parabens (Propyl, Methyl, Butyl, or Ethyl)
Imidazolidiny and Diazolidinyl Urea
Synthetic Colors
Triethanolamine (TEA)
Research all of these ingredients, but do not be fooled by websites that claim the above ingredients are safe.  Visit the Environmental Working Group website to discover the safety rating for chemicals as well as specific products on the mainstream market. Consider transfer buying. Shift your mindset to take control of your health by choosing a company that enables you to "one stop shop" for all of your basic wellness needs.
Essential Oil Disclaimer
I only use essential oils from the true leading essential oils company in the world – doTERRA. Based on personal experience and scientific knowledge, it is even more dangerous to inhale an impure essential oil, than it is to ingest and apply it.  I once got headaches from essential oils that claimed to be therapeutic grade from a company who claimed to be the world leader in essential oils.  Those essential oils proved to be fragrance oils, as over time, I developed fragrance toxicity.
A true certified pure therapeutic grade essential oil will not make you feel any level of dis-ease.  As the marketplace becomes flooded with essential oil companies who make untrue claims, please be mindful of what you bring into your homes. The energy of impurity is simply not healthy for the energy of you or your home.  Keep it simple, keep it pure, choose well, choose doTERRA for safety, purity, and results that work like magic. I am living proof.  Remember, happy, healthy, and free is your birthright and smart choices equals vitality plus success.
Work with me
Are you driven to create change in the world?  Do you feel inspired to make a change in your health and the health of others?  Are you motivated to live a life of health freedom and financial freedom?  If you answered yes to all of these questions and believe that you have the fortitude to join me in this important mission, then please contact me.  Much like you, I have a deep desire and commitment to helping others.  I was born to make a difference in the world.  I am searching for dedicated & like minded people, who believe in the power of what our earth already provides.  Financial freedom is the added bonus.