Turkey & Rice Casserole with Brussels Sprouts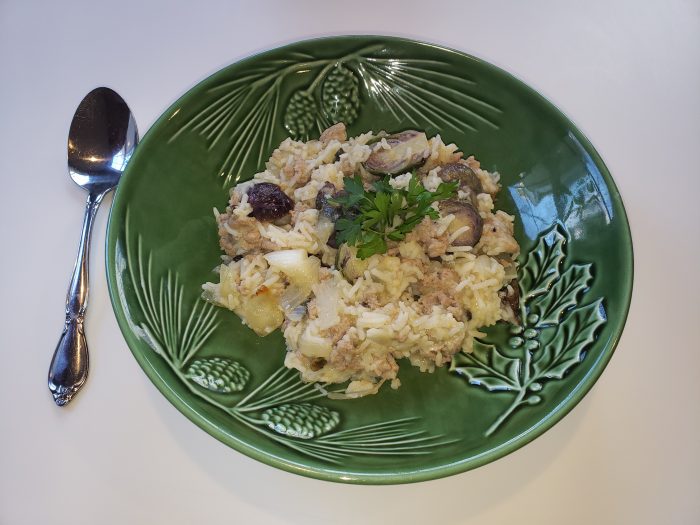 Need an easy stove top meal that cooks up fast?  This Turkey & Rice Casserole with Brussels Sprouts is a perfect fit to feed your family lunch or dinner, and it packs well for weekday lunches too!  Most pantries are stocked with the recipe ingredients, so all you have to purchase is 3 additional fresh ingredients:  organic ground turkey, organic brussel sprouts, and organic parsley.
Ingredients:
1 c. White Rice
2 tbsp. Extra Virgin Olive Oil (and more to drizzle)
1 lb. Organic Brussels Sprouts (trimmed and cut in half)
Sea Salt
Freshly Ground Black Pepper
1 lb. Organic Ground Turkey
4 Cloves Freshly Minced Garlic
1 Diced Yellow Sweet Onion
2 Tsp Turkey Seasoning
2 Tbsp All Purpose Gluten Free Flour
1 1/2 Cups Organic Chicken Broth
1/4 Cup Chopped Organic Parsley
Directions:
Rinse rice and cook on stovetop in 2 cups filtered water.
Trim and cut brussels sprouts in half.
Dice onion and set aside.
Drizzle olive oil in a large sauté pan over medium – high heat.
Place brussels sprouts face down and cook for 4 minutes.  Drizzle more olive oil and season with salt & pepper.  Sauté for an additional minute, then transfer to plate.
Using medium to high heat, add 1 tablespoon olive oil to pan and brown the turkey.  Using a flat wooden spatula or wooden spoon, break up the meat into smaller chunks.
Add garlic, onion, and turkey seasoning (see recipe below).  Stir for 2 minutes.  Mix in 2 Tbsp flour, then stir in chicken broth.
Bring broth to a boil and simmer on low for 3 minutes.
Stir rice and brussels sprouts into pan until warmed.
Garnish with parsley and serve.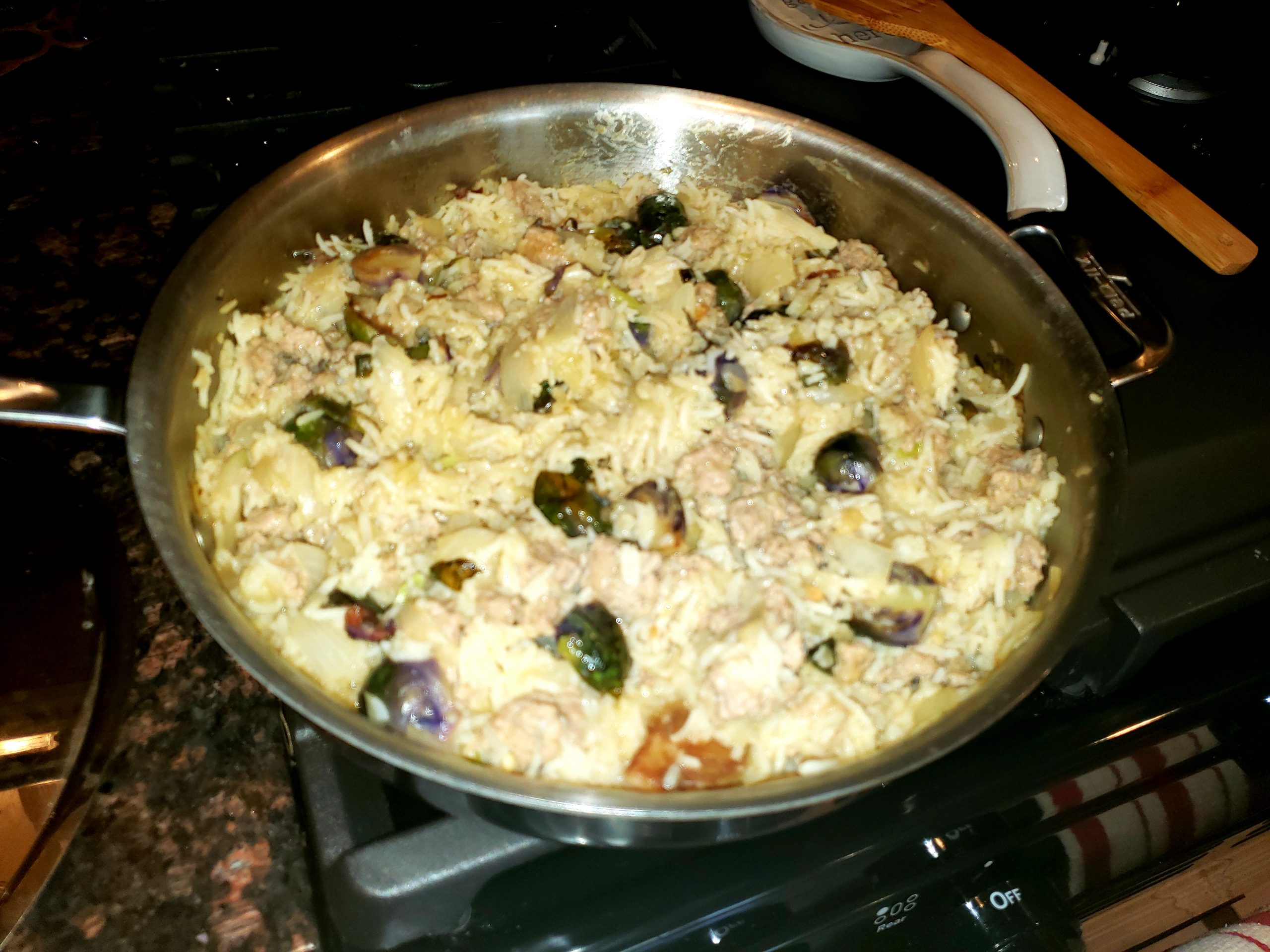 Make Your Own Turkey Seasoning:
1 Tsp Sea Salt
1/4 Tsp Coconut Palm Sugar
1/4 Tsp Organic Cinnamon
1/4 Tsp Organic Orange Peel
1/4 Tsp Organic Allspice
1/4 Tsp Organic Ginger (or freshly grated)
Delights:
Yields 4 – 6 servings
Stove to table in 25 minutes.
Easy to pack for lunch.
Swap brussels sprouts with broccoli.
Add chopped spinach to chicken broth.
Serve with your favorite salad.