Top 6 Benefits of Clove Essential Oil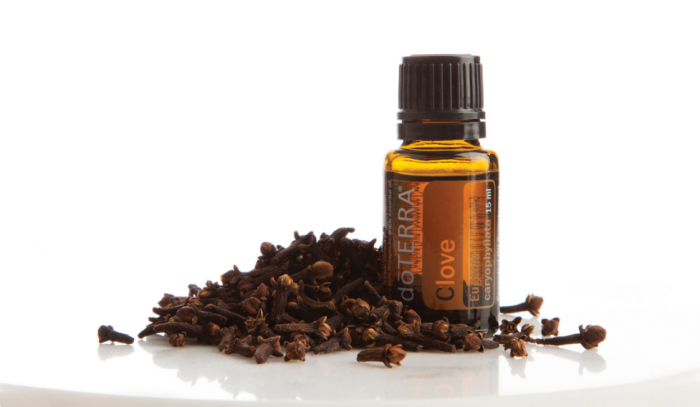 Clove Essential Oil
Have you tried dōTERRA Clove essential oil yet? If not, you are missing out! This unique essential oil has a variety of uses including cleaning the gums and teeth, providing a warming massage, adding flavor to desserts, teas, a variety of other dishes—and the list goes on and on. The warm, spicy scent of Clove makes it very powerful and invigorating, and it's a great addition to a diffuser blend, especially in the fall and winter seasons. I happen to diffuse Clove all year long to kill airborne germs.  Whether you are looking for an essential oil that can provide a soothing massage, improve your oral hygiene, spice up your meals, or provide internal benefits, Clove essential oil is a must-have for your essential oil collection.
Top 6 Benefits of Clove Essential Oil
Powerful antioxidant properties
Promotes circulation
Supports cardiovascular health
Helps soothe teeth and gums
Promotes oral health
Supports a healthy immune system
Primary Uses
Add one drop to toothpaste to clean teeth and gums.
Place one drop in two ounces of water and gargle for a soothing effect.
Take in veggie capsules to support cardiovascular health.
Topical
Dilute:  1 drop clove to 1 drop carrier oil such as fractionated coconut oil, before topical use.  Apply to area of concern.
Aromatic
 Diffuse with caution; it may irritate the nasal membranes if inhaled directly from the diffuser.
Internal
 Place 1 drop under the tongue or ingest in capsules.  Use in teas, baking, and cooking.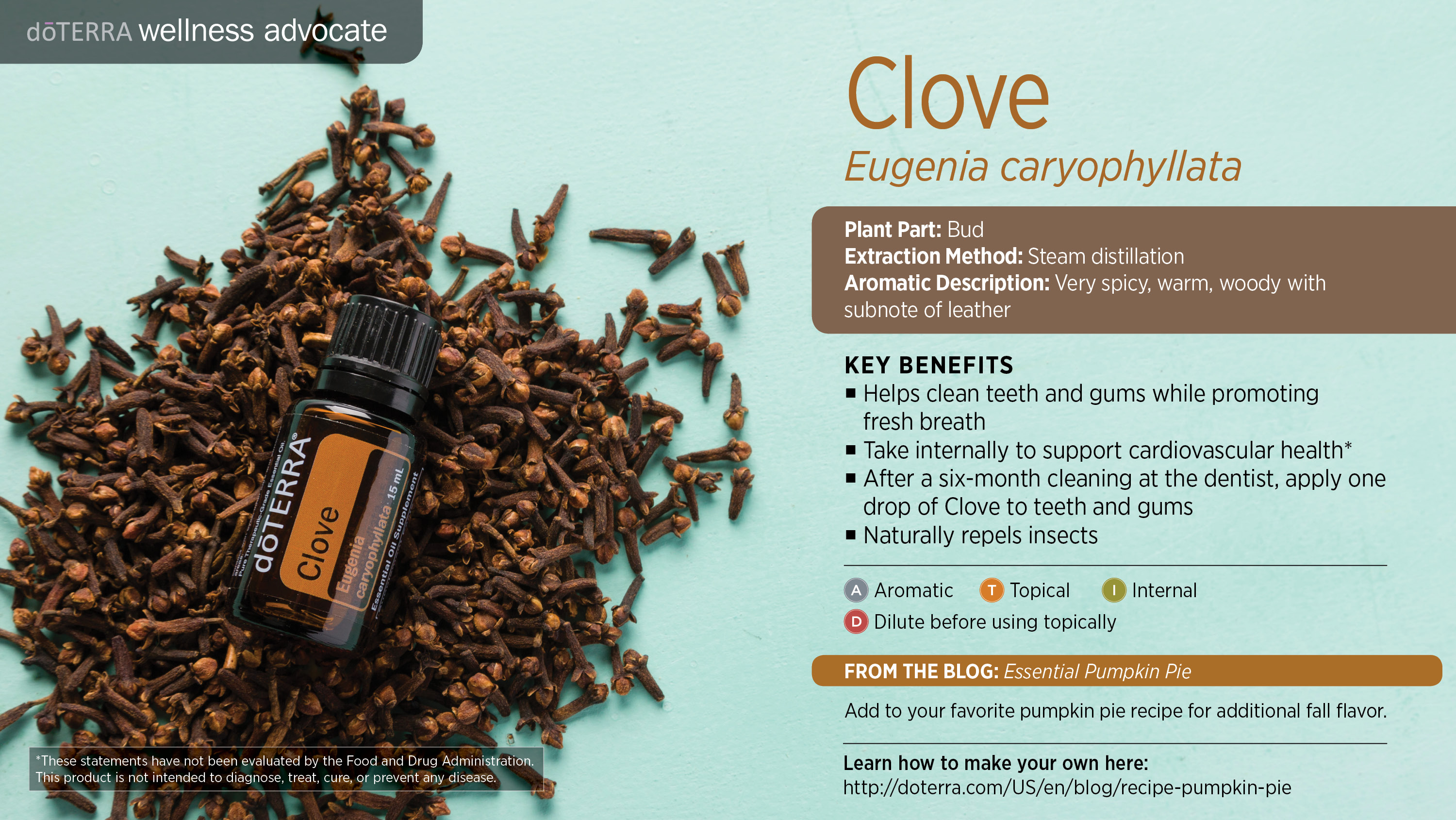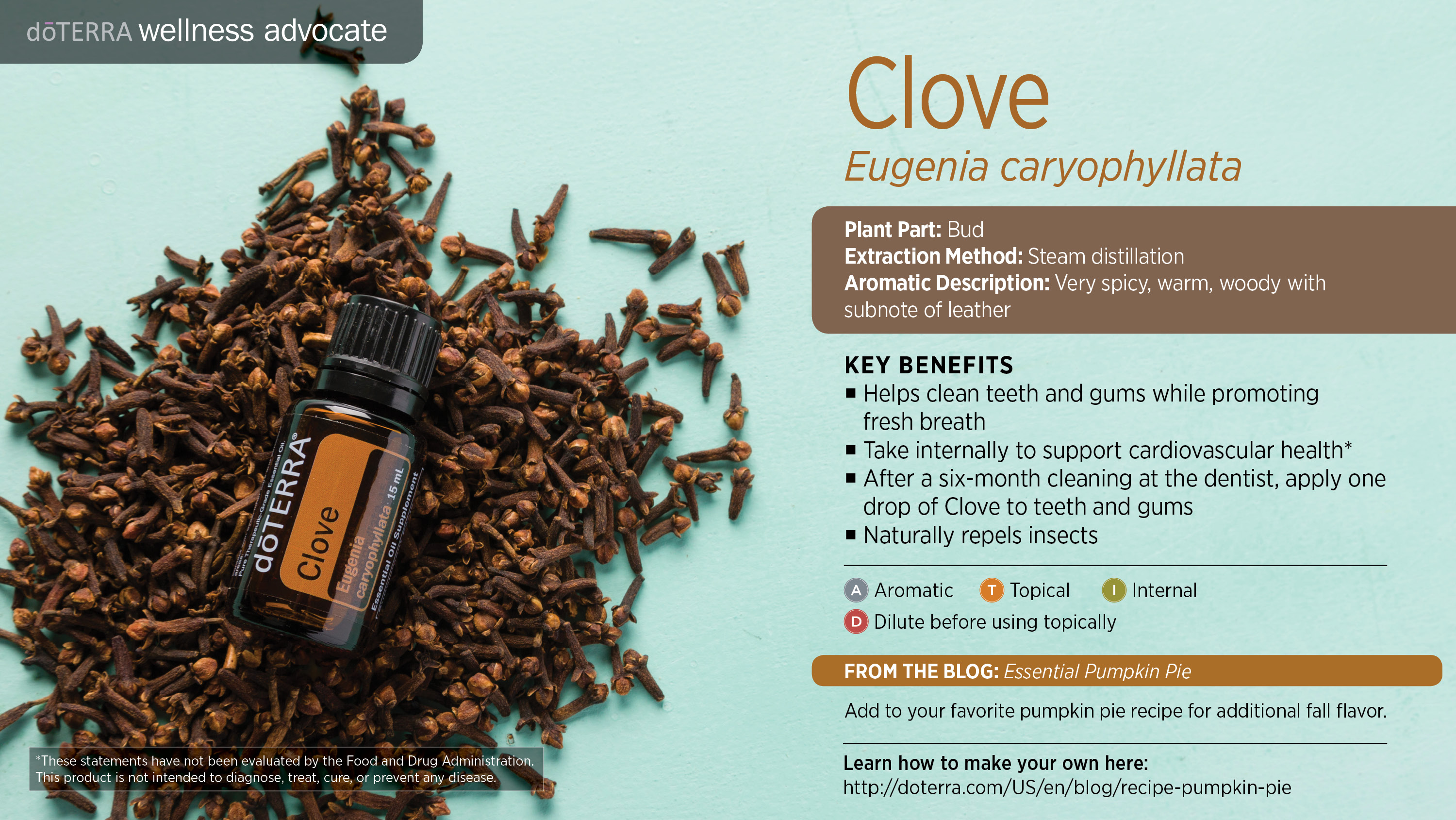 Spice-It-up Chai Tea
 Ingredients:
3 cups almond milk
Ginger Essential oil (toothpick dip)
Cinnamon essential oil (toothpick dip)
Clove essentail oil (toothpick dip)
Vanilla Extract
Directions:
 In a small pot, heat almond milk.  Whisk in all ingredients or add to blender.
Tea Tips (Using Essential Oils in Drinks):
To avoid overpowering flavor, dip a toothpick in the center of the dripper cap and then swirl it in your beverage:  Repeat the process if necessary.  Add fresh or dry herbs for color and additional benefit.
Remove hot water from the stove right before it starts to boil.
Essential oils can be used in preparing hot as well as cold drinks.
My Favorite Uses for Clove:
Mouthwash
Tooth & Gum Pain
Immune Boost (1 drop under tongue)
Drawing Salve (for splinters or infection)
Clean Breath
Insect Control
Alertness & Memory Support
Cautions
Possible skin sensitivity. Keep out of reach of children. If you are pregnant, nursing, or under a doctor's care, consult your physician. Avoid contact with eyes, inner ears, and sensitive areas.
Essential Activity:
Start benefitting from Clove essential oil on a daily basis by putting one drop into water for a natural mouthwash each morning.  Read the ingredient label on your current mouthwash bottle.  Research those ingredients on the EWG website (Environmental Working Group).  Then reflect:  do you really want to put those chemicals & preservatives into your mouth?  With just this one change, you will experience many additional side benefits of using Clove essential oil.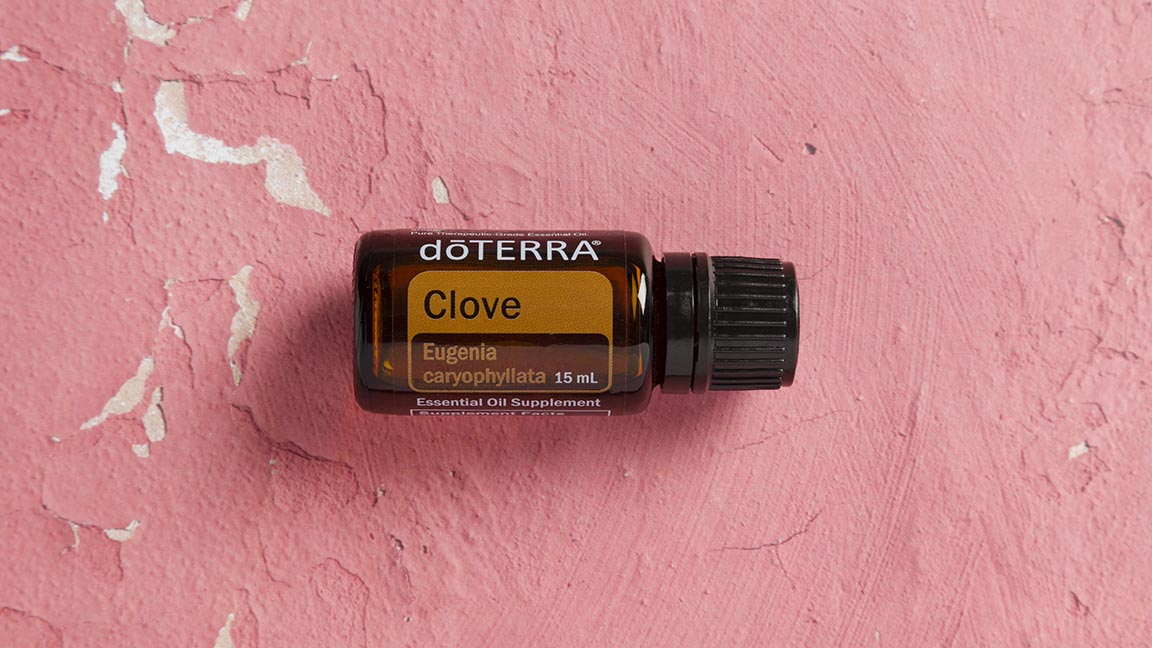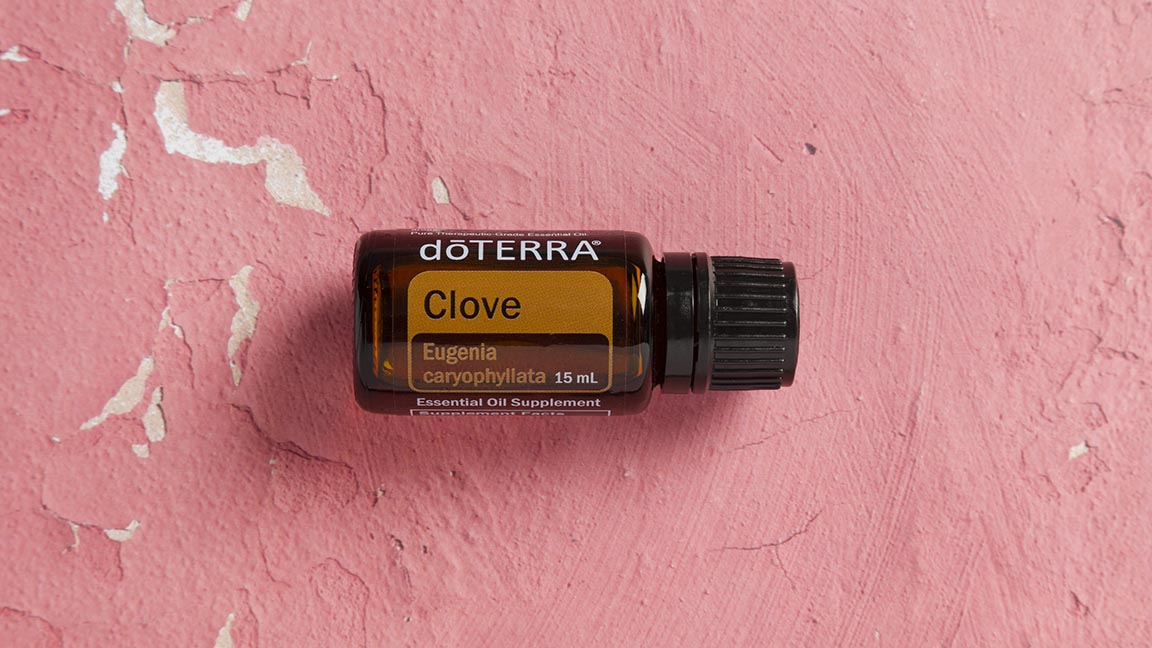 ESSENTIAL OIL DISCLAIMER
I only use essential oils from the true leading essential oils company in the world – doTERRA. Based on personal experience and scientific knowledge, it is even more dangerous to inhale an impure essential oil, than it is to ingest and apply it.  I once got headaches from essential oils that claimed to be therapeutic grade from a company who claimed to be the world leader in essential oils.  Those essential oils proved to be fragrance oils, as over time, I developed fragrance toxicity.
A true certified pure therapeutic grade essential oil will not make you feel any level of dis-ease.  As the marketplace becomes flooded with essential oil companies who make untrue claims, please be mindful of what you bring into your homes. The energy of impurity is simply not healthy for the energy of you or your home.  Keep it simple, keep it pure, choose well, choose doTERRA for safety, purity, and results that work like magic. I am living proof.  Remember, happy, healthy, and free is your birthright and smart choices equals vitality plus success.