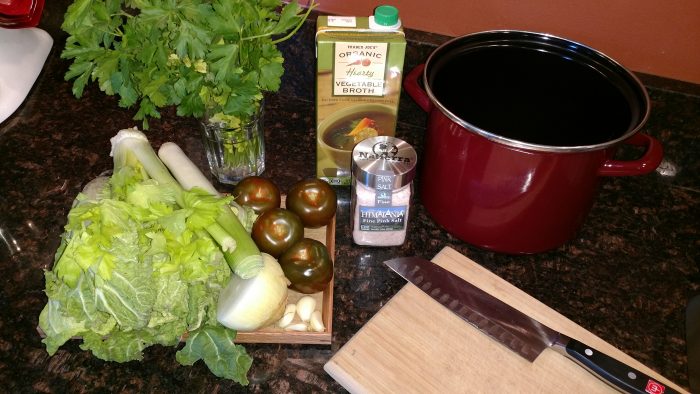 This delicious "skinny cabbage soup" is Vegan, Gluten Free, non-GMO, soy free, and corn free.  It is a wonderful soup to eat before, during, and after a period of detox.
I use all organic ingredients and do my best to buy fresh produce from my local organic farmer.  This recipe serves 4 – 6.  My favorite thing about this soup is that it can be eaten for a late night dinner or snack, with no worries about calories and carbs.  Enjoy this soup again and again during cooler months.
Cabbage belongs to the cruciferous family and has cleansing abilities in addition to a variety of healing abilities, especially when combined with other crucifers.  Crucifers are rich in B vitamins and A, C, E, and K.  Crucifers help stave off a variety of cancers and are known to support the thyroid, lungs, liver, and reverse scar tissue.  Green cabbage in particular supports the joints and has the potential to reverse osteoporosis.
Skinny Cabbage Soup – Ingredients:
1 Head Green Cabbage (preferably from a local farm)
4 Kumato Tomatoes (chopped)
4 Garlic Cloves (minced)
2 Stalks Celery (chopped)
1/2 Yellow Onion (chopped)
1 Leek (diced)
1 container Vegetable Broth (32 oz – contains organic vegetables and no MSG/yeast extract)
2 cups purified water
1/2 Teaspoon Himalayan Salt
Parsley
Skinny Cabbage Soup – Directions:
Gather all ingredients and tools for time efficiency and easy preparation.
Pour the vegetable broth into the stock pot and add 2 cups of filtered water.
Chop, dice, and mince all of the above ingredients.
Add all of the ingredients and cook on medium heat for 15 minutes, then low for 5 minutes.
Garnish with Parsley
Variation:
For added color and flavor, add red cabbage and shredded apples.  "Apples and red cabbage eaten at the same time are especially effective at expelling bacteria, worms, and other parasites, and viruses from the liver, spleen, and intestinal tract."  Anthony William – author of Life-Changing Foods
Anthony William's book can be purchased on Hay House or Amazon.