8 Must Have Essential Oils
Inhalation of the aroma of a certified pure essential oil can be a powerful way to affect memory, hormones, and emotions through the olfactory system.  Anatomically, the olfactory system is closely connected to the limbic system of the brain.  The limbic system includes structures such as the hippocampus (long-term memory), the amygdala (emotions), the hypothalamus (autonomic nervous system and hormones), and the cingulate gyrus (regulates blood pressure, heart rate, and attention).  It is due to the fact that the olfactory system is so closely connected to the limbic system that essential oils have such profound physiological and psychological effects. (Modern Essentials, Fourth Edition)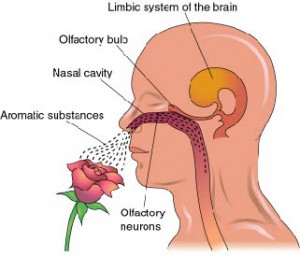 Essential oils are small enough in molecular size and quickly penetrate the tissues of the skin.  They penetrate cell membranes, even if the membranes have hardened because of an oxygen deficiency.  Essential oils also stimulate blood flow, thereby increasing oxygen and nutrient delivery.  Understanding the scientific aspect of how essential oils works motivates me to continue my daily use of essential oils. When you use certified pure therapeutic grade essential oils, it is guaranteed that you will notice a difference in how you feel day by day.
No matter which essential oils you choose to experience, you will experience a variety of benefits.  Use the seven essential oils daily via inhalation, application, and/or diffusing.  Notice how you feel and how people react to you when you wear essential oils.  My favorite scents to wear are Bergamot, Ylang Ylang, and Blend for Women (contains Bergamot, Ylang Ylang, Patchouli, Cinnamon, Rose, etc.).

Take a look at how the following 8 essential oils can support you:

Ginger
•Helps ease occasional indigestion and nausea

•Promotes digestion

•Supports overall digestive health

Sandalwood
•Promotes healthy, smooth skin

•Reduces the appearance of blemishes

•Enhances mood

•Frequently used in meditation for its grounding and uplifting properties

Black Pepper
•Rich source of antioxidants

•Supports healthy circulation

Bergamot
•Promotes healthy, clear skin

•Reduces tension and stress

•Soothes and rejuvenates skin

•Lessons sad and anxious feelings

Wild Orange
•Powerful cleanser and purifying agent

•Protects against seasonal and environmental threats

•High in antioxidants

•Uplifting to the mind and body

Rosemary
•Helps balance hormones

•Promotes healthy skin and hair

•Lifts mood while having a calming effect
Ylang Ylang
•Helps balance hormones

•Promotes healthy skin and hair

•Lifts mood while having a calming effect

•Helps to lessen tension and stress
•Promotes a positive outlook
•Combines with each individual's chemistry to create a beautiful, unique, and personal fragrance

•Provides a warming, musky aroma that entices the senses and intrigues the mind

•Calms the skin and emotions

Essential Activity:
The way in which we can best share love, appreciation, & respect with others, is to first love and honor ourselves.  Choose the essential oils from this list that most resonate with you.  Apply to the bottom of your feet, the back of your neck, behind your ears, on your wrists, or all of the above.  Do this for a minimum of 7 days and notice the difference in how you feel, as well as how people respond to you.  Say this daily affirmation aloud each morning and night:  "I love myself unconditionally and accept myself as I am."
Essential Oil Disclaimer:
I only use essential oils from the true leading essential oil company in the world – doTERRA. Based on personal experience and scientific knowledge, it is even more dangerous to inhale and impure essential oil, than it is to ingest and apply it.  I once got headaches from essential oils that claimed to be therapeutic grade from a company who claimed to be the world leader in essential oils.  Those essential oils proved to be fragrance oils, as over time, I developed fragrance toxicity.
A true certified pure therapeutic grade essential oil will not make you feel any level of dis-ease. As the marketplace becomes flooded with essential oil companies who make untrue claims, please be mindful of what you bring into your homes. The energy of impurity is simply not healthy for the energy of you or your home.  Keep it simple, keep it pure, choose well, choose doTERRA for safety, purity, and results that work like magic. I am living proof.  Remember, happy, healthy, and free is your birthright and smart choices equals vitality plus success.