Roasted Butternut Squash Soup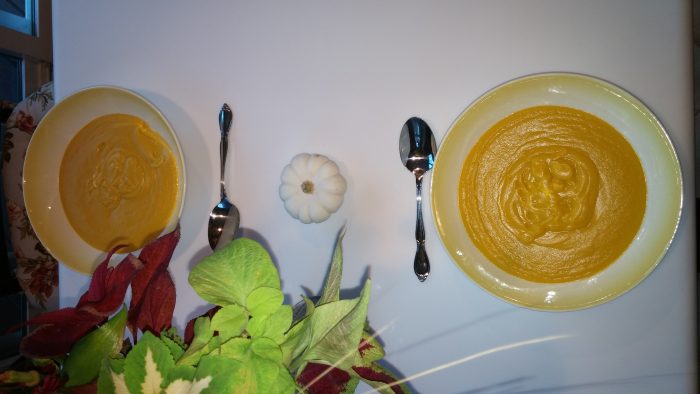 Roasted Butternut Squash Soup
This savory roasted butternut squash soup makes 2 large soup bowl servings, and will yield 4 smaller soup bowl servings.  This recipe is Vegan, Gluten Free, Corn & Soy free, non-GMO, and easy to create.
Serve immediately upon creation. This recipe requires a simmer or non-stick skillet, and a Vitamix or similar style high speed blender.  I use organic ingredients only and avoid neurotoxic flavorings such as MSG.
Ingredients:
1 butternut squash peeled and cut into chunks
1 yellow onion chopped
1 carrot sliced
2 Tbsp Extra Virgin Olive Oil
1/4 Tsp Dried Thyme
1 Vegetable Bouillon (try to find one that does not contain yeast extract (MSG neurotoxin) or soy)
2 cups hot water
1/2 cup coconut milk (try to add cream from top)
Step 1:
Spread butternut squash on a stoneware bar pan or line a metal baking tray with parchment paper.
Drizzle at least 1 Tbsp olive oil over butternut squash.
Sprinkle sea salt over squash
Bake for 50 minutes at 350 degrees F.
Step 2:
 Preheat a skillet over medium heat, add 1 tbsp olive oil
 Saute the carrots and onion for approximately 10 minutes.
Step 3:
Pour hot water into Vitamix and add Bouillon
Add coconut milk, thyme, and roasted squash
Add mixture of carrots and onion
Step 4:
Blend together in Vitamix until steam starts to come out of the top vents (approximately 4 minutes).
Serve immediately and enjoy.
Variations & Tips:
An immersion blender or hand blender is an option if you do not own a Vitamix blender.
Garnish with a sprig of fresh thyme or parsley.
If you are unable to find a healthy vegetable bouillon, use 2 cups of hot vegetable broth free of neurotoxins.
For dinner parties of 6 to 8, prepare double the amount of all ingredients and blend 2 separate batches.
If cooking for 1, refrigerate the other half & heat on stove top the following day, or freeze.
Essential Activity:
Plan ahead by purchasing the above ingredients.  Prepare the squash by peeling the outer skin first, then chopping the squash into 1 inch size chunks.  If you have not begun to do so already, be sure to read the labels of all products you purchase.  Look for real food ingredients. Make sure the label does not contain anything that is genetically modified, "flavored" or contains "yeast extract" (a food industry synonym for MSG – a neurotoxin).