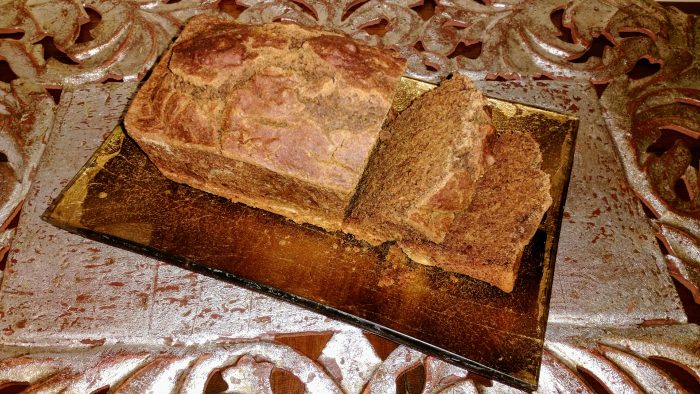 My original recipe posted on The Essential Classroom in 2013, contained eggs and a lot of oat flour!  I since have evolved in my understanding of how certain ingredients, such as eggs, can affect our health and well-being, so I've updated the recipe….and let me tell you, it is super delicious!  I replaced the eggs with applesauce, swapped out a cup of coconut palm sugar with date sugar (for a new dimension of sweetness), and cut the oat flour way down.  The result was a tremendous surprise. The bread is still as moist as ever, and actually tastes better without the eggs.
Be sure to use all organic ingredients and aluminum free baking powder.  All of the ingredients below can be found online at Amazon or Thrive Market.  In regards to the flours, if you do not have sweet potato flour on hand (it creates a denser bread), use 3 1/2 of gluten free oat flour, which will yield lighter and fluffier mini loaves.
I think you are going to love the results and taste of this bread!  Keep in mind that I use a Pampered Chef mini loaf stoneware baker, but you can certainly use a regular size loaf pan.  I highly recommend baking in stoneware or glass for health purposes and taste.  Freeze the extra loaves until you are ready to eat them.  The bread tastes just as terrific once thawed.
PUMPKIN SPICE BREAD
Directions:
Pre-heat oven to 350° F.  Grease and lightly flour mini loaf pans with Coconut Oil or Shortening.  In a large bowl, combine sugar, oil and applesauce.  Add pumpkin and mix well.  Combine dry ingredients, add them to the pumpkin mixture alternating with water. Pour into greased mini loaf pans. (I use Pampered Chef Mini Loaf Stoneware). 
Bake at 350° F for 45 minutes or until bread tests done with a toothpick. 
Cool completely before moving to a serving tray or wrapping. 
Yields 4 mini loaves.

Added Sweetness:
If your palette prefers sweet, add an additional 1/4 cup of date sugar.
Be sure to purchase certified pure therapeutic-grade cinnamon essential oil only.
Recipe created and tested by Margarete Hyer Jan. 2017
ESSENTIAL ACTIVITY:
Makeover your pantry.  Shop Thrive Market for wholesale prices for the above ingredients.  Choose organic, non-GMO, wheat free, and dairy free – as often as possible.  Avoid white sugars, cane sugars, white flour, wheat flours, soy, corn, and their derivatives.