Cranberry Relish with Wild Orange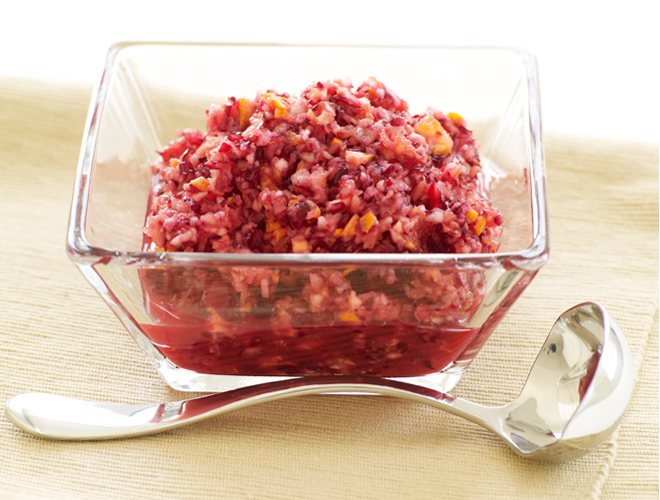 Cranberry Relish



2 Eight Ounce Bags Organic Cranberries

3 Navel Oranges (organic)
1/2 Cup Grade A Maple Syrup

4 Drops Wild Orange Essential Oil
Use a food processor to finely grind up the cranberries but do not puree.  Grind 8 ounces at a time.  Cut the oranges into small chunks and puree all 3 together in the food processor.  Mix the maple syrup, cranberries, oranges, and Wild Orange essential oil together.  Sweeten to taste.  Store in a glass container in the refrigerator.  This is a quick and easy recipe that takes just a few minutes.
Mixture may be frozen in glass until day of serving.
Contact me to purchase Wild Orange Essential Oil wholesale.

Essential Activity:
Enjoy eating raw whole food with the added boost of pure wild orange essential oil that comes from the Dominican Republic.  This is a tasty treat for any time of day and makes a terrific healthy dessert.

Essential Oil Disclaimer:
I only use essential oils from the true leading essential oil company in the world – doTERRA. Based on personal experience and scientific knowledge, it is even more dangerous to inhale and impure essential oil, than it is to ingest and apply it.  I once got headaches from essential oils that claimed to be therapeutic grade from a company who claimed to be the world leader in essential oils.  Those essential oils proved to be fragrance oils, as over time, I developed fragrance toxicity.
A true certified pure therapeutic grade essential oil will not make you feel any level of dis-ease. As the marketplace becomes flooded with essential oil companies who make untrue claims, please be mindful of what you bring into your homes. The energy of impurity is simply not healthy for the energy of you or your home.  Keep it simple, keep it pure, choose well, choose doTERRA for safety, purity, and results that work like magic. I am living proof.  Remember, happy, healthy, and free is your birthright and smart choices equals vitality plus success.