Cashew Butter Banana Oatmeal Bars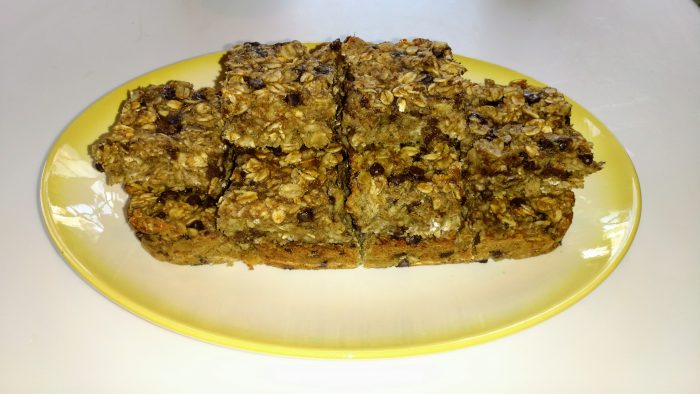 Cashew Butter Banana 'Chocolate Chip' Oatmeal Bars
Makes 16 gluten free non-GMO cashew butter banana chocolate chip oatmeal bars. Will stay fresh for up to one week in a covered container at room temperature or in the refrigerator.
Ingredients:
2 and 1/2 cups gluten free old-fashioned rolled oats (I use Bob's Red Mill®)
1/4 cup organic dark brown sugar, loosely packed (or coconut palm sugar)
1 teaspoon baking powder (I use Hain® – gluten free & sodium free)
1/2 teaspoon salt
1 teaspoon organic ground cinnamon
1/2 cup almond milk (or coconut milk)
1 teaspoon vanilla extract
1 large organic egg (or flax replacement, see Vegan/Allergy option)
2 large very ripe bananas, mashed (I sometimes use 3 bananas)
1/3 cup creamy cashew butter
1/2 cup dairy, nut, & soy free semi-sweet mini chocolate chips (Enjoy Life®)
Directions:
Preheat oven to 350F degrees. Coat 8×8 square baking pan with coconut oil or line with parchment paper. Set aside.
Mix together oats, sugar, baking powder, salt, and cinnamon. Add in the milk, vanilla, and egg (or flax gel). Mix together until evenly combined. Add mashed bananas, cashew butter, and chocolate chips. Stir well.
Pour the mixture into the pan and bake for 20 minutes. Allow to cool. Cut into 16 bars.
Vegan & Egg Allergy Option:
For egg allergies or vegan option, mix 1 tbsp ground organic flax with 3 tbsp warm water. Give it 10 minutes to gel and use as replacement for the egg.
Organic Egg Scorecard:
If you are baking with eggs, be sure to look at the organic egg scorecard published by The Cornucopia Institute.
Essential Activity:
Replace outdated or unhealthy staples in your pantry with organic, non-GMO, gluten free, & aluminum free ingredients.  Start with the ingredients in this recipe.  Purchase all items that you do not happen to have on hand.  Give your bananas about one week to ripen.  Be sure to use safe & pure essential oils that are suitable for ingestion.  Enjoy the process of creating a healthy snack/dessert for you and your family.