Healthy School & Work Year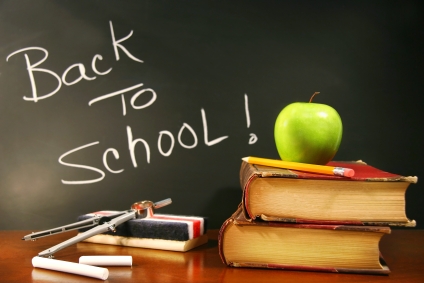 Tips for a Healthy School & Work Year

Heading back to school or work after any vacation can be very challenging for so many, most especially our children who are exposed to a variety of chemicals, bacteria, and viruses, in the very locations where they spend the majority of their developing years.  I personally enjoy the structure of a school day and I particularly enjoy working with middle school students.  I make a significant difference in their lives, on a day to day basis, on many levels.  However, reflecting on the past, I once dreaded returning to school each September, because throughout the majority of my teaching career, I rarely felt well and was usually battling some kind of un-wellness related to not only my classroom environment, but also the germs that I was exposed to through my students.
Over the past few years, I have reversed "returning to school un-wellness", and found wellness through a variety of solutions.  Below I will share with you my Triangle of Defense formula and more.  Please note that in years of searching for the perfect "formula", I have found the world's leading essential oil company to be superior in the quality of products that they offer, including the ease in which the ordering process works.  I order different products every month based on my current needs and collectively, all of these products have changed my life.  By ordering every month, I actually earn 30% back on my purchase and have received over thousands of dollars worth of free products!  Does your local grocery store offer you that?  Coupons and sales, yes, but 30% return?…and do they sell products that you trust are actually healthy for you?  I rarely walk into a mainstream grocery store these days.  There is very little to be purchased that will nourish a lifestyle of wellness.  It's a great feeling to physically feel light and free of toxins that can weigh oneself down by way of mind, body, and spirit.  I hope that you will consider this path of wellness and Triangle of Defense for you and your family.

TRIANGLE OF DEFENSE
          Immune Defense
            Environmental Defense
            Nutritional Defense
Immune Defense
Protective Essential Oil Blend
Contains:  clove, cinnamon, eucalyptus, rosemary, wild orange

Supports healthy immune function

Protects against environmental threats

Cleans surfaces


Purifies the skin while promoting healthy circulation

Energizing, uplifting aroma
Immune System Support

       3 drops Lemon
       2 drops Oregano
       2 drops On Guard

       2 drops Peppermint
       2 drops Clove
       1 drop Melaleuca
Use veggie caps for internal use of the oils.
Environmental Defense
1)    Diffuse Protective Blend
Fact:  "Diffusing a blend of clove, cinnamon, lemon, eucalyptus, and rosemary killed over 99%of bacteria in 12 minutes."   – The Journal of Essential Oil Research
2)  Apply Cleansing Hand Gel (replaces chemical laden hand sanitizers)
INGREDIENTS:

5 tablespoons pure aloe vera gel
4 tablespoons water
1/4 teaspoon vitamin E oil
8 – 10 drops Protective Blend
Small Squeeze Container
DIRECTIONS:
1.  In a bowl, combine aloe vera gel and vitamin E oil.
2.  Add 8 – 10 drops of Protective Blend mixture.
3.  Add water and mix well.  Add more or less water based on the desired consistency.
4.  Pour into small container for use. (Go Tube)
Fact:  "Purell contains propylene glycol, a cosmetic form of mineral oil found in automatic brake and hydraulic fluid and industrial anti-freeze.  The Material Safety Data Sheet warns users to avoid skin contact with propylene glycol as this strong skin irritant can cause liver abnormalities and kidney damage."
http://www.natural-health-information-center.com/propyleneglycol.html
3)  Wash hands with Protective Blend Foaming Hand Wash (replaces all chemical laden pump soaps)
Gentle cleansers and emollients clean and soften hands throughout the day without drying or irritating sensitive skin

Protective Blend Foaming Hand Wash is pH balanced to protect the delicate moisture barriers of the skin


The spice and citrus aromas of Protective Blend invigorate the senses during and after use



The power of Protective Blend essential oils enhances the cleansing function to take it to a new level and set it apart from other commercially branded products

4)  Clean with Protective Blend Household Cleaner (replaces chemical laden cleaners)
Provides natural protection against certain environmental factors

Elevates overall cleaning capability

Helps to clean and eliminate odors

Perfect to clean hard surfaces in the kitchen, bathroom, or any room, leaving behind a clean and invigorating scent

5)  Lavender Essential Oil  
Widely used for its calming and relaxing qualities

Soothes occasional skin irritations


Helps skin recover quickly

Eases muscle tension



Nutritional Defense (children & adults)
Chewable Vitamin

Contains a superfood blend that helps support overall health and wellness

A balanced blend of essential vitamins including the antioxidant vitamins A, C, and E, and a cellular energy complex of B vitamins.

Includes a blend of bioavailable minerals including calcium, magnesium, zinc, copper, and manganese

Specially formulated to be used daily with Omega 3 (containing wild orange to maintain taste & freshness) as a comprehensive dietary supplement foundation for a lifetime of vitality and wellness


Supports healthy cell development

Provides antioxidant protection against free-radical damage

Supports healthy cell function and metabolism by providing antioxidant protection to cellular DNA

Provides cellular energy blend of B vitamins, which are important metabolic factors of cellular energy

Provides essential nutrients and antioxidants that support healthy cell development and longevity
Fish Oil Blend

Promotes healthy cardiovascular, nervous, and immune system function

Supports healthy joint function and comfort

Provides important modulating nutrients for healthy immune function

Protects against lipid oxidation and supports healthy function of the brain

Promotes healthy skin

Digestive Blend Capsules
Aids the digestion of foods

Eases occasional stomach discomfort


Supports a healthy gastrointestinal tract    
Probiotic Capsules
Supports healthy digestive functions and immunities while creating an unfavorable environment for unhealthy elements

Helps boost GI immunities

Helps support optimal absorption of nutrients and energy metabolism

Helps support healthy skin conditions

Pure therapeutic grade essential oils are currently being used in hospitals & schools globally and throughout the United States.  Be sure to choose essential oils that are third party tested.

Use Only Pure Therapeutic Grade Essential Oils:
1.  Grown Organically
2.  Distilled Purely, Without Synthetic Chemicals
3.  Never Diluted or Altered (3rd Party Tested)

4.  Hypoallergenic
5.  Safe To Use Internally
6.  Exceeds All International Standards
7.  Safe For Kids, Pets, & Adults
8.  Easy To Use / Quick Results!
Essential Activity: 
Contact me to set up wholesale accounts in order to purchase healthy personal care, nutrition, and triangle of defense products at the wholesale price.  In addition to the above solutions, I combine my daily wellness routine with structured water.

Discover Udemy's featured courses!
Essential Oil Disclaimer:
I only use essential oils from the true leading essential oil company in the world – doTERRA. Based on personal experience and scientific knowledge, it is even more dangerous to inhale and impure essential oil, than it is to ingest and apply it.  I once got headaches from essential oils that claimed to be therapeutic grade from a company who claimed to be the world leader in essential oils.  Those essential oils proved to be fragrance oils, as over time, I developed fragrance toxicity.
A true certified pure therapeutic grade essential oil will not make you feel any level of dis-ease. As the marketplace becomes flooded with essential oil companies who make untrue claims, please be mindful of what you bring into your homes. The energy of impurity is simply not healthy for the energy of you or your home.  Keep it simple, keep it pure, choose well, choose doTERRA for safety, purity, and results that work like magic. I am living proof.  Remember, happy, healthy, and free is your birthright and smart choices equals vitality plus success.